Where to stay in Yangon? Check out our guide to the largest and most exciting city in Myanmar, one of the most undiscovered countries in Southeast Asia.
Yangon is no longer the capital city of Myanmar, but it is the biggest city. It's usually the first on many travellers' itineraries to the South East Asian country.
As of 2023 travelling to Myanmar is higher restricted and better avoided.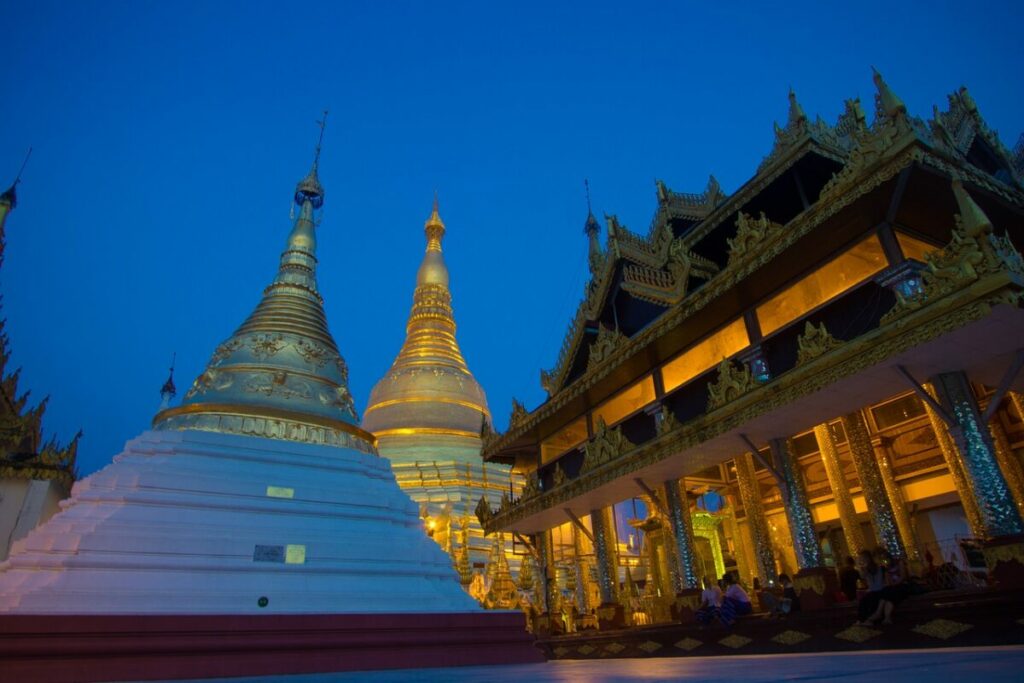 The skyline is as unusual as it is pretty, with golden pagodas jostling for position against British colonial architecture. Many Buddhists undertake pilgrimages to Yangon's pagodas, while for tourists, it's the perfect place to start a Myanmar adventure!
If you're travelling to Yangon, you'll probably want to do some research into the best neighbourhoods to stay in town. To help you out, we've prepared this handy guide on where to stay in Yangon. Hopefully it'll make planning your trip a lot easier!
Travel in Yangon: Overview
Although the capital of Myanmar is the newly built city of Naypyidaw, Yangon is still very much the cultural and historical centre. Myanmar has been open to tourists for less than 10 years, so it has a lot of catching up to do compared to its neighbours Thailand and Vietnam. However, for some travellers this makes for a more authentic and rewarding experience.
As of 2021, the political climate in Myanmar is not favorable for visiting the country as a tourist.
But what can you expect from Yangon? The main attractions are definitely its golden pagodas, Shwedagon Paya being the best known. Among the traffic and pollution, there are a number of parks and lakes to escape to and disconnect.
When you're feeling suitably refreshed, head back into town and try some of Myanmar's delicious street food. The nation's cuisine has been heavily influenced by nearby China, India, and Thailand, so there's plenty of flavour!
If you are flying into Yangon, compare and book tickets using Jetradar. If you are traveling by land in Myanmar, check Bookaway.
Best Areas to stay in Yangon
Yangon is split into 4 different districts. Unsurprisingly, these are North, East, South, and West. These districts are then chopped up into smaller and more manageable neighbourhoods. Most of the best places to stay are concentrated in the East and West districts of Yangon.
The Northern District extends more than 20 miles from the city centre, while South Yangon offers fewer things to do. It's the smallest and quietest district of Yangon. We've decided to explore Bahan in the West and Botataung in the east in this post.
Bahan
Bahan is the most popular area in Yangon for tourists, and it's not hard to see why. The neighbourhood is at the crossroads of Sule Pagoda Road and Mahabandoola Road, and it's where you'll find a lot of the most interesting and important attractions in town.
Yangon's museums and gardens are in this area of the city, as are some of its best places to eat. It's also where you'll find the most popular attraction in Yangon: Shwedagon Pagoda. Visit here during the evening, the best time to see the top of the 2,500 year old golden dome glistening against the night sky.
If you can't make the pagoda, don't worry. Even the most budget friendly accommodations have excellent views of the pagodas and are close to the action in Bahan. However, if you're looking for something a little more upmarket, there are plenty of mid-range and luxurious hotels too.
Botataung
The Eastern District of Yangon is probably the busiest and most populated part of the city. Botataung is probably the most tourist friendly part of this district. This is because it's home to some of the best-preserved colonial architecture in town. If your taste in old buildings dates a little further back, then of course, there's a pagoda you can visit, after which the area is named. Like Bahan, there is a wide variety of accommodation options here, from cheap hostels to luxury hotels.
If you're planning to travel further into Myanmar, then there's another reason you should consider staying in Botataung. It's very close to Mingala Taungyunt, another neighbourhood in the Eastern District of Yangon. Here, you'll find the city's central railway station. You can even take a circular train from here, which will show you nearby local markets and small towns!
Budget Accommodation in Yangon
Backpacker Hostel – a great budget accommodation in the Botahtaung area of Yangon.
Royal Star Guest House – an excellent guest house with affordable rates in the Downtown area of the city.
Reasonably Priced Accommodation in Yangon
Eastern Hotel – an excellent value for the money option in the Botataung area.
Diamond Crown Hotel – another great hotel to stay in one of the best areas of Nagoya.
Luxurious Hotels in Yangon
The Strand, Yangon – a luxurious hotel in Downtown Yangon.
Savoy Hotel – a sumptuous hotel, located in one of the best areas of Yangon, Bahan.
Cost of travelling in Yangon
The average cost of travel is around $70 on a day. However, if you're on a budget you can do it for much less than this. Rather than looking at luxurious hotels, consider a hostel. If you really don't want to share a room, look a little further out of the city centre and try to get a B & B. Also, when it comes to food, sample Yangon's incredible street food over a sit-down meal in a restaurant.
Are you considering a longer stay in Yangon, or relocating completely? Surprisingly, Yangon can be extremely expensive in this case. If you're looking to rent an apartment, most landlords expats to pay for a year in advance.
Best time to Visit Myanmar
Myanmar has a similar climate to the neighboring Thailand (at least for most of its regions). Therefore, it would be ideal to avoid the rainy season.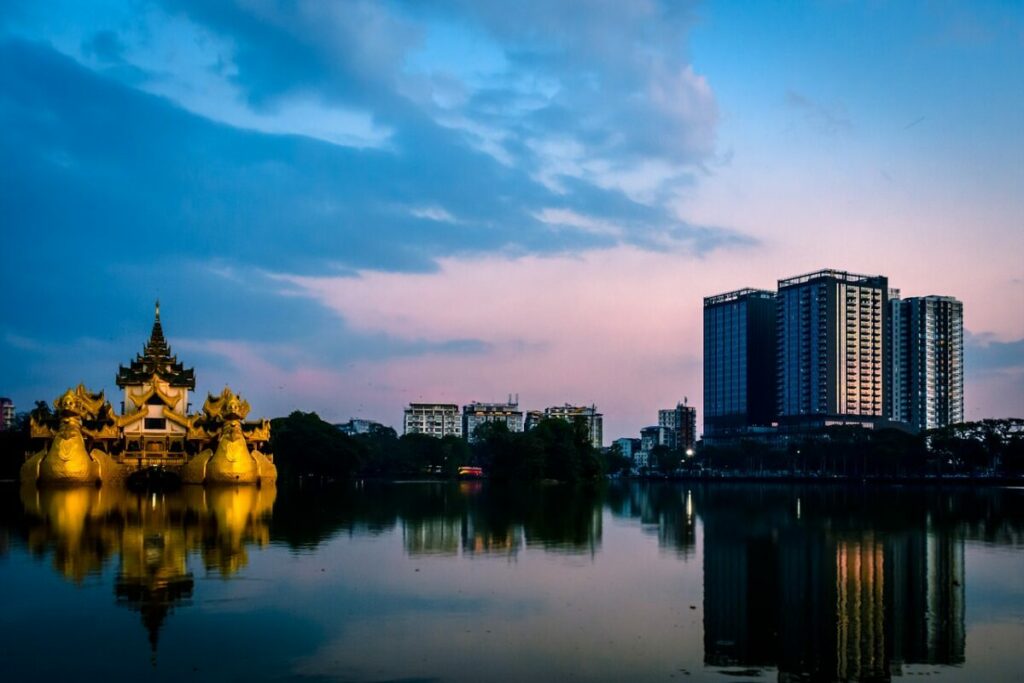 From November to January, precipitation is not high, and temperatures are relatively mild. From February through April, rainfall is still low, but the temperatures are more extreme, with very hot days frequently. The rainy season is from May to September.
Other resources to travel in Southeast Asia
If you are traveling around Southeast Asia you might want to check our guides on where to stay in Bangkok and the how to travel from Yangon to Mandalay.
You may also want to check our post on travel insurance in Myanmar, and the average and minimum salary in Yangon.