Where to stay in Bratislava, Slovakia? Check the best areas and when to visit the capital of Slovakia, including its beautiful old town
Where to stay in Bratislava? Discover the best places to stay in Bratislava, a beautiful Central European capital with a refined old town and a picturesque architecture.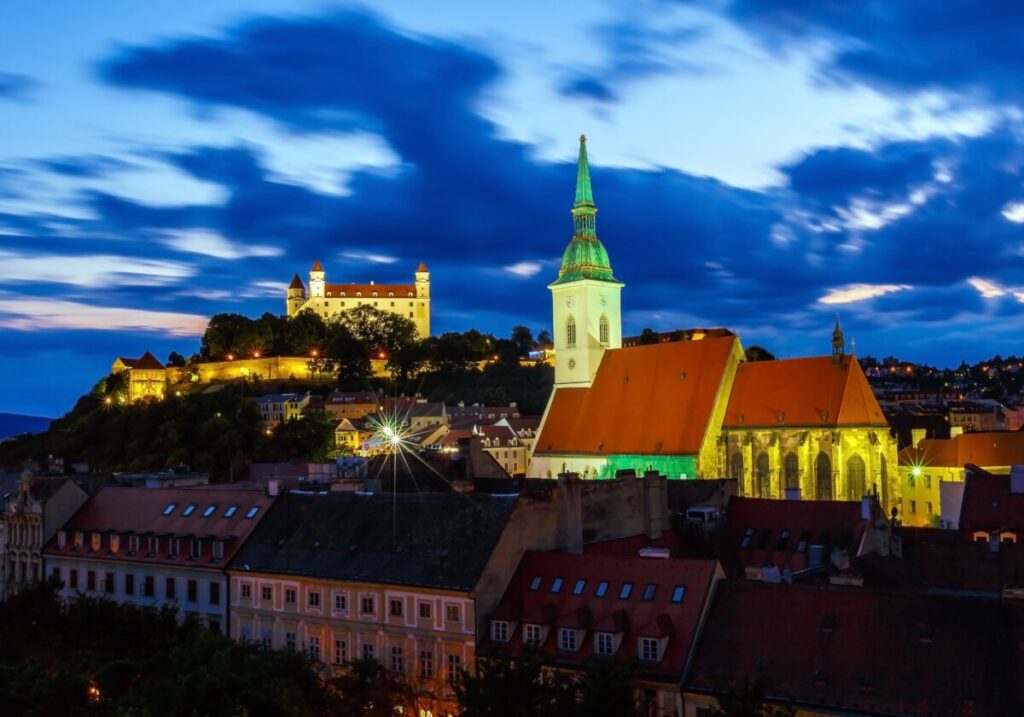 Bratislava is the capital and the largest city of Slovakia, a land of pristine nature and magnificent castles. Slovakia rests in the central Europe and has a better than average development in this part of the continent.
Bratislava also referred as the beauty on the Danube has less population than a half a million. It is also the economic, cultural and administrative center of the country. Bratislava is well connected by plane, bus or car. If you are visiting Vienna, make sure you take one day to travel to Bratislava since its less than 80 km far.
On your next travel make sure you visit Devin Castle, Michael's Gate, Church of St. Elisabeth, Slavin, Bratislava Castle, Roland Fountain, St. Martin's Cathedral etc.
Among museums worth visiting are Slovak National Museum, Bratislava City Museum and Bratislava Transport Museum. Also, make sure to explore The Old Town centered on two squares, Hlavne namestie (main square) and Hviezdoslavovo namestie (Hviezdoslav square).
Tourism in Bratislava: Overview
When it comes to tourism Bratislava is a well-known destination. It is especially popular among weekend travelers from other nearby countries. Bratislava has a lot to offer including rich architecture, beautiful nature, a variety of indoor and outdoor activities.
Regardless of being among youngest capitals in the world, Bratislava offers both worlds.
From historical and cultural heritage to modern cosmopolitan, every visitor will find something worth exploring. Bratislava has a very interesting medieval inner city with narrow streets, and also a hilltop castle next to the river Danube. There are many historic churches, museums, and buildings to visit.
Moreover, you will also find modern shopping and trade centers, various restaurant, friendly people and various cultural events, exhibitions worth of visiting. Indulge yourself in local delicacies and taste some of the local food.
Best Places to Stay in Bratislava
The best places to stay in Bratislava are definitely the Old Town and its surroundings. Bratislava is a rather compact capital for European standards, and you can easily get around it by foot.
If you are visiting the city by train, the area near the Bratislava train station can be an option, especially if you are coming for a short time.
The Old Town
The Old Town is the best area to stay in Bratislava and is also the most accessible. It is the heart of the city and the center of transportation and historical monuments. Here you'll be well-positioned to enjoy the city's nightlife.
Bratislava's Old Town is quite beautiful, with plenty of things to keep you busy for a day or two. In nice weather you can stroll down the streets, stopping into the many cafés, restaurants, and shops. Also, you can buy original souvenirs and support local small businesses when shopping at Kompót.
Moreover, you should visit some newly reconstructed garden behind the main fortress. Be sure to stop at Michael's Gate (Michalská Brána), the only remaining city gate. Hence, this area is perfect for tourist wanting to be in the center of the action.
Bratislava Train Station
If you are coming to Slovakia for a short train trip, one of the best places to stay in Bratislava is the area around the Bratislava Main Railway Station (hlavná stanica).
The train station itself is not very far from most attractions in the Old Town, and you can even walk to it. If you need to catch a train early, it can be an excellent choice.
If you are travelling to Slovakia by train you may want o check our article on trains from Bratislava.
Budget Accommodation in Bratislava – €
Hostel Folks – one of the best hostels in Slovakia, located in a privileged location at the heart of the city center.
Reasonably Priced Accommodation in Bratislava – €€
Botel Dunajský Pivovar – enjoy the unique experience of staying in a botel on the Danube with a beautiful interior design.
Penzión Donet – a great reasonably priced option to stay in the Slovak capital, quite close to the train station.
Luxurious Hotels in Bratislava – €€€
Grand Hotel River Park – one of the most sumptuous hotels on the banks of the Danube, with refined decoration.
Tulip House Boutique Hotel Bratislava – a luxurious boutique hotel right in the heart of the city center.
Cost of Travel in Bratislava
Bratislava is a relatively affordable destination compared with some neighboring cities. The prices will highly depend on your needs and preferences. The average daily travel cost is around 80 euros. The accommodation prices will vary but you can find it starting at 30 euros or more (for a single room).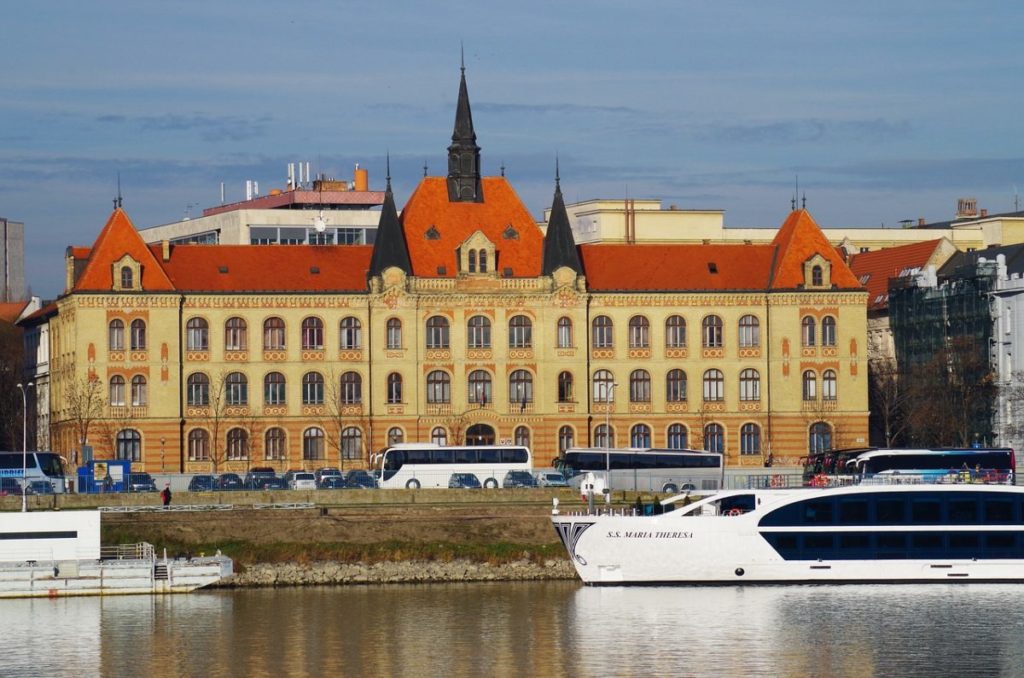 If you are on the budget you can spend around 40 euros. The price includes accommodation and food. The price also depends on the type of accommodation. The best way to save some money is by planning in advance.
The price for some hostels can be very affordable at times, depending on when you visit Bratislava. The capital of Slovakia is highly subject to seasonality, with accommodation prices peaking at August and July. The cheapest month is usually February.
The capital of Slovakia has somewhat higher restaurant costs because of it being a river cruise stop. Still, you can buy drinks and food for cheap. For instance, you can have 500 ml beer in a bar for less than 1 euro (happy hour). Also, you can buy main dishes for around 1.50 to 5 euros, rolls and baguettes for less than 1 euro.
Best Months to visit Slovakia
Slovakia has a moderate continental climate. This means there are four seasons that should be considered when planning your trip. The hottest month is July and the coldest is January. The average temperature in July is 21°C.
The country's capital is good for a visit all year around. The peak tourist season is from July to August. This is a period bustling with tourists and the prices are the highest.
The most beautiful time to visit Slovakia is during spring. Nature is blossoming and you can enjoy sunny days with outdoor activities. Many visitors also recommend autumn because of pleasant temperatures.
You can spend your time visiting historical monuments or take a picnic at nearby parks.
Other Resources to Travel in Central Europe
If you are planning a trip to Slovakia or other countries in Central Europe you might want to check some of our other guides to the region. Check where to stay in Budapest and the best areas to stay in Vienna.
If you are coming for a longer period, check our guide on the cost of living in Bratislava.
Are you in Slovakia already? Leave your thoughts or questions in the comment box below.