Where to stay in Zaragoza? Discover the best areas to stay in Zaragoza, one of the most iconic cities in Eastern Spain, and definitely worth visiting
If you are travelling to the Eastern part of Spain, Zaragoza is definitely a good option. In this post we will cover the best places to stay in Zaragoza, a city full of history, beautiful architecture and delicious Aragonese food.
Zaragoza is Spain's 5th largest city, but it's rarely mentioned in the same breath as Spain's other tourist centres like Barcelona, Madrid, and Seville. However, it's a fascinating place to visit and has over 2,000 years of history. It's a great idea to spend a few days in this charming city for a number for reasons. It's home to some of the best Moorish architecture outside of Andalusia, a unique and hearty cuisine, and is the birthplace of one of Spain's most notable artists – Francisco de Goya.
You're going to need somewhere to stay then, but how do you choose? Well, that's what this guide is for. We've selected the best areas to stay in Zaragoza so that you can relax and enjoy your holiday.
Travel in Zaragoza: Overview
The capital of Spain's Aragon region is just waiting to be discovered. There's a lot of history, with medieval and fortresses and 2 huge cathedrals in the centre of the city. The Basilica de Nuestra Señora Pilar is a baroque masterpiece, and arguably one of the finest cathedrals in the whole of the country. Also, The Moorish archways of the Aljafería Palace are simply sublime. Add a rich gastronomy, with a focus on stews made from super-fresh ingredients and you don't need to even think about the several other reasons for a trip here.
Outside of the city itself, there's a lot to see too. Reserva Natural de los Galachos de Alfranca is a huge nature reserve in the Ebro valley, the river that runs through the centre of Zaragoza. To learn about the Spanish Civil War, head to the "living monument" of Belchite.
Zaragoza is a safe city and tourists shouldn't run into any problems. Violent crime against tourists is almost unheard of. However, make sure you have travel insurance before your trip in case the unexpected does happen.
Zaragoza does have an airport and it's located 16km to the west of the city centre. However, there are only 9 destinations so it's better to fly to either Barcelona or Madrid and take a train. It's almost exactly the same distance from either city. Find a flight using Jetradar.
For those considering traveling to Zaragoza by train, the best option to get your tickets is the Trainline.
Best areas to stay in Zaragoza
As we've said, Zaragoza is Spain's 5th biggest city, and there are a lot of different neighbourhoods. So, how can you know the best one to choose? Well, you have a few different options. Each one offers a unique experience depending on what you want to get from your trip.
The Casco Histórico is the old town and is closest to most of the tourist destinations. The Zona Centro, or downtown, is a wealthy area with lots of shops and tree-lined boulevards. The University Delicias district is unsurprisingly where the Universidad de Zaragoza is located.
Casco Histórico (Old Town)
Formerly a walled city, the Ebro flows just to the north of Zaragoza's Casco Histórico. It's the best place to stay if you want to be close to the majority of the city's attractions. The two busiest and most important streets, Calle Coso and Avenida de César Augusto, are located here. The Casco Histórico is home to the highest concentration of restaurants, bars, and hotels.
It's only a short walk to the nearby downtown district, which is full of quiet green spaces to go for a walk or relax. Parques Miraflores and Pignatelli are great places to forget you're in the centre of a big city.
University Delicias
Located west of the city centre, University Delicias (often simply referred to as Delicias) is also a great place to stay. Don't be put off by the fact that the university is here. This just means that there are a lot of outdoor coffee shops, independent book stores, and pubs and restaurants.
Zaragoza University is home to 40,000 students spread across 20 campuses, so it's a young crowd in this district. The number of university students means that this is the city's best spot for nightlife. There are lots of pubs, clubs, and restaurants close to the university campus. They stay open late, so if you want a good night's sleep, stay further away from the centre of the campus!
Budget Accommodation in Zaragoza
Albergue La Posada del Comendador – a cosy hostel to stay in Zaragoza, close to the most attractions in the old town.
Reasonably Priced Accommodation in Zaragoza
Hotel Oriente – an excellent choice close to the Basilica in a prestigious location in Zaragoza.
Hotel Inca – located in a central location in Zaragoza, this hotel offers great value for the money.
Luxurious Hotels in Zaragoza
Hotel Palafox – a great luxurious option with easy access to the Casco Antiguo, one of the best places to stay in Zaragoza.
Cost of travelling in Zaragoza
Because Zaragoza is a bit off the beaten track when it comes to Spanish travel, travelling here is quite affordable. Getting here will likely involve both an aeroplane and a train or bus, which could be the thing that sets you back most.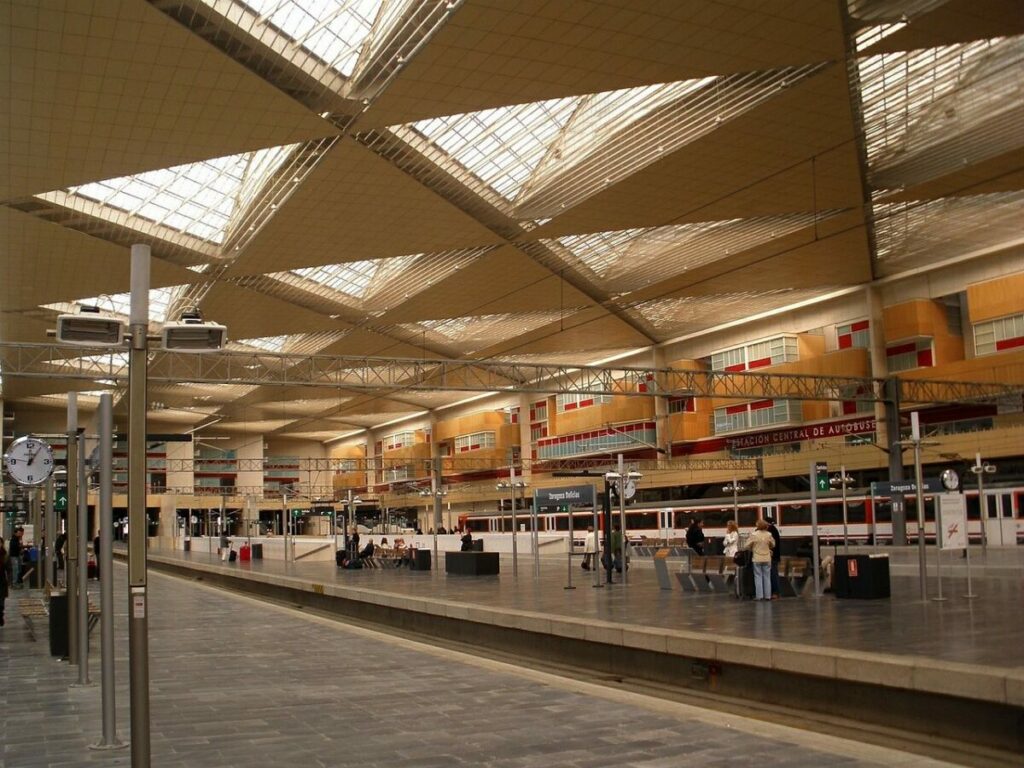 Zaragoza is however accessible by the network of high speed Spanish trains (AVE). For that reason, despite its location, it is reachable from both Madrid and Barcelona under two hours.
A wide range of hotels and restaurants means that there's something for every budget. Zaragoza is definitely not among the most expensive cities in Spain. Accommodation is considerably more affordable than Madrid and Barcelona.
Food wise you can expect the same costs as in mid sized Spanish cities. One daily menu (menú del dia) can cost from 9 to 12 euros in weekdays.
Best Time to Visit Zaragoza
Like most parts of Spain, Zaragoza has pretty pleasant temperatures year round. As it it not on the coast, the temperature amplitude tends to be higher than cities like Barcelona or Malaga.
Overall, Zaragoza has a climate pretty similar to that of Madrid. That means winter days that are rarely below freezing, ut summer days that are often too hot. The best time of the year to visit Zaragoza is definiely Spring and early Autumn..
Other Resources for Traveling in Spain
If you are traveling in Spain you may probably find some of our other guides to the country useful. Check the best places to stay in Madrid or where to stay in Seville. You can also check how to get from Madrid to Valencia and the cost of living in Madrid.
Are you coming to Spain or currently in the country? Leave your thoughts and questions in the comment box below.