Where to Stay in Munich, Germany? This post will guide you to choose the best areas to stay in Munich, the capital of Bavaria
Are you traveling to Munich in the near future? This guide to the best areas to stay in Munich will show you the secrets of the Bavarian capital, one of the wealthiest and most beautiful cities in Germany.
Tourism in Munich: Overview
Munich, or München in German, is the capital of German region of Bavaria, and the third largest city in Germany. It is also one of the most visited cities in the country. It is famous for its picturesque old town, rich history and its iconic yearly beer festival, the Oktoberfest.
The capital of Bavaria is also an important travel hub in Germany for both air and land travel. The Munich International Airport is the second busiest airports in Germany, with many domestic and international flights connecting the city to the world. For those visiting the city by train, Munich offers direct train connections to most important German cities, as well as to many European countries such as Switzerland, Austria, Czech Republic, Hungary and others.
For those traveling to Munich by air, checking the best fares on Jetradar is always a good idea. If you are traveling by train or bus to Munich, I recommend buying tickets on Trainline.
Regardless of whether you are coming to Munich for the Oktoberfest or not, the city is always a good stop for any visitor to Germany and Europe.
Best Areas to Stay in Munich
Despite being one of the largest cities in Germany, the central area of Munich is quite compact. There are two areas you should consider when visiting Munich. One is the area near the Munich Central Station and Theresienwiese. The other area is the Old Town, especially Maximilianstrasse and its surroundings.
Munich Central Station and Theresienwiese
The Munich Central Station is right in the center of the city and its surroundings are one of the best places to stay in Munich. While the area itself does not offer a lot of attractions, it has a wide range of accommodation options to offer, from budget to upper class hotels. On top of that, it is still at a walking distance to the old town and the Marienplatz.
This area is also close to the Theresienwiese, which is the location of the Oktoberfest. If you are coming to the Oktoberfest this area is extremely convenient, especially after visiting the Oktoberfest and going back to your hotel.
Old Town and Maximilianstraße
The old town is the place to stay in Munich if you are visiting the city for shopping and sightseeing. The Marienplatz is right in the middle of the old town is a good point of reference to choose a place to stay in Munich.
Also in the old town, a good reference is the Maximilianstraße or Maxilimilian Street. It is the most iconic street in Munich, and a great place to sit around in one of its various posh cafés.
Budget Accommodation in Munich – €
wombat's CITY Hostel – Munich  – an excellent hostel right next to the Munich Central Station.
Euro Youth Hotel Munich – a budget option just a short walk to the Munich Central Station.
Reasonably Priced Hotels in Munich – €€
Hotel Jedermann – a reasonably priced hotel close to the Munich Central Railway Station.
Hotel Schlicker – a great hotel in a very central location in Munich.
Luxurious Hotels in Munich – €€€
Mandarin Oriental, Munich – an excellent luxurious hotel in the old town of Munich.
Rocco Forte The Charles Hotel – a superior class hotel close to the Munich Central Station
Cost of Travel in Munich
Munich is quite an expensive city, both for its visitors as well as for its residents. While transport and eating out prices are comparable to those in other main cities in Germany, accommodation is pricier than the average.
The capital of Bavaria has a great transport network, like all main cities in Germany. As the city center is rather compact, you get around it by foot, or at most use the tram in some cases. A single ride in the public transport network cost 2.90 euro.
Accommodation is probably the most expensive cost you will have while visiting Munich. Prices are especially high in summer and during the Oktoberfest. Finally, if you want to save money, the cheapest time to visit Munich is January, February and March.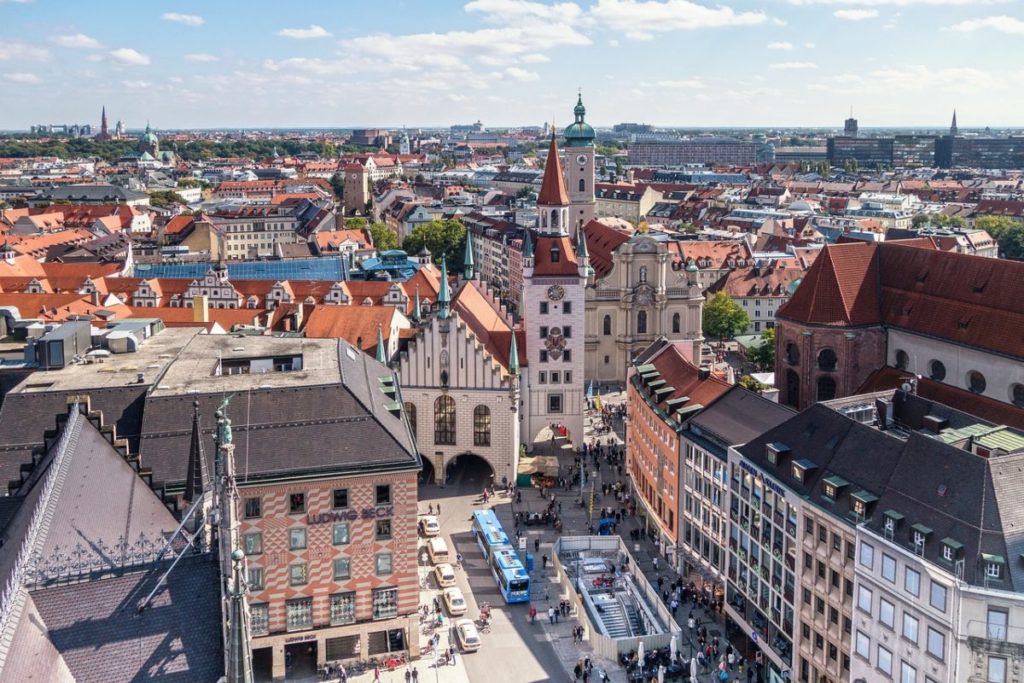 When to Visit Munich
Munich is a lovely city and it is sure that you will find great activities to do while visiting in during any time of the year. However, some seasons might be better than the others, especially when it comes to weather and prices.
In terms of weather, Munich has a relatively mild climate almost all year round. The only exception is the winter, when it does get rather cold in the months of December, January and February.  While occasional heat waves do happen in July or August, the heat is less strong than in countries like Spain or Italy.
For those coming to the Oktoberfest, happening in late September to early October, prepare your trip in advance. Finding tickets and accommodations will not be an easy task if you don't plan your visit to Munich for this event.
If you don't mind the cold, December is a great time to visit Munich and its quaint Christmas markets.
Other Resources for Traveling in Germany and Europe
If you are visiting Munich soon you may want to check some of our other content to Germany and nearby European countries. Click here to read about the best areas to stay in Cologne and Düsseldorf. You can also read our post on how to travel from Munich to Vienna, in Austria. Finally, for those considering a longer stay in the city, check our guide on the cost of living in Munich.
Have you already visited Munich or planning to do it in the near future? Leave your thoughts and questions in the comment box below.